News & Events in University of the Punjab
PU VC for identifying special talent of special children
PU VC for identifying special talent of special children
LAHORE: (Tuesday, December 5, 2017): Punjab University Vice Chancellor Prof Dr Zafar Moeen Nasir has said that Allah has bestowed special children with special abilities and we need to identify them, making them useful part of our society. He was addressing an event organized by PU Child Welfare Centre (CWC) to mark International Day of Disable Persons.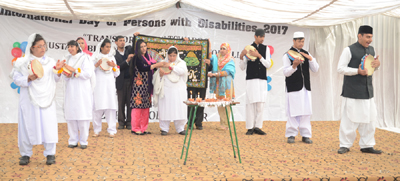 On the occasion, the special children presented Qaseeda Burda Shareef and welcomed the participants with stage performance. The students also presented national songs and attracted a huge applause from the audience. Addressing the ceremony, Dr Zafar Moeen Nasir said that special children were a good opportunity for us and their performance showed that they had special abilities.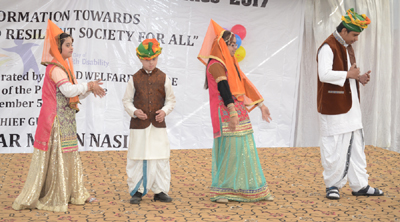 He said that PU administration was paying special attention to special children and providing them all possible facilities. Addressing the ceremony, Dr Ayesha said that such activities were being organized by PU Child Welfare Centre which could help identify hidden talent of special children. Later, PU VC Dr Zafar Moeen Nasir inaugurated shelter workshop for provision of vocational training to special children.